THE FIRM, ITS HISTORY


O M C has its seat in Certaldo, in Tuscany, a town famous for its historical medioeval centre and the flourishing activity of numerous industrial concerns. The activity of O M C began in 1968 and since 1979 the company has been the exclusive property of the Calvetti family.
The firm after passing from mechanical manufacture on behalf of a third party in the early years with supplies of processed parts to customers like the STATE RAILWAY, has begun the construction of industrial machines for the most varied lines of business.
In the early eighties, a generational change took place even if a strong link with the old management remained, this has brought an increase in the creative and structural capacity of the firm.
Today O M C has the means to design and build its machines entirely on its own premises. The machines are designed by a highly technical office supplied with the most modern equipment. The production range includes all the machines requested on the specifications of the customers, not present on the market, for the most varied lines of business.
Many firms in the area, some more, some less, are our customers, because our solutions aim to solve the production problems that every firm has on its premises, guaranteeing speed, precision, personalization and reliability in the execution of the installations and the machinery.
The capacity to exploit existing modern technology, from mechanical to pneumatic, from electronic to oleodynamic, and to no-load, our know how and the professional use of the computer allows us to satisfy the requirements of the most attentive customer fully.
Of continuation we signal you some of the fields from we deals to you.
Whichever demand is appreciate, will answer to you with professionality, quick and courtesy.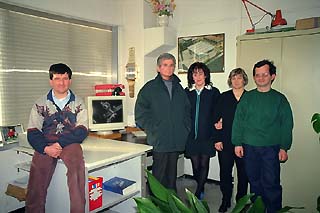 P.I. Vanadio Calvetti
Sales Office - direzione@omc.srl.it
P.I. Vanadio Calvetti
Technical Office - direzione@omc.srl.it
Mr. Galileo Calvetti
Production - produzione@omc.srl.it
Mr. Galileo Calvetti
Procurement Spare Parts - Warehouse - produzione@omc.srl.it
Ms. Mina Mori and Brunella Crocchini
Administrative Office - gestione@omc.srl.it
Home Page - The Firm, It's History - The Production – Services
O M C
Via Calabria, 11 50052 Certaldo (FI)
Tel. (+39) 0571668337 - Fax 0571668337
P.IVA & C.F.IT 05913940481
e-mail: direzione@omc.srl.it